Standards-aligned
curriculum that inspires kids
to love science!
New to Mystery Science? Get a free trial until June 30, 2024!
Only 3,542 free trials remaining. Learn more
Hands-on science made easy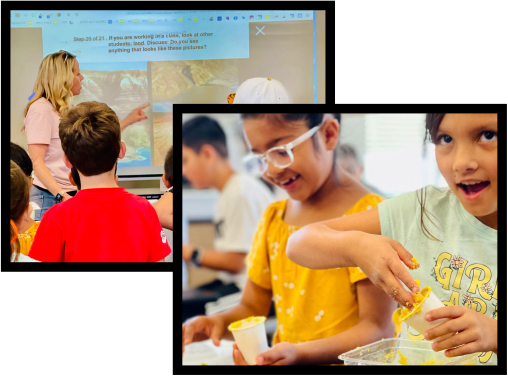 Hands-on science made easy
Engaging investigations

Phenomena-driven

Written & 3D assessments
Anchored in everyday scientific phenomena
Mystery Science is an innovative, standards-aligned, hands-on curriculum that teaches children how to think like scientists.
Our phenomena-driven instruction helps kids to better understand and communicate about the world around them through writing, discussion, and exploration.
Loved by students and teachers
Both my students and I are hooked. Adding in the Anchor Layer is a GAME CHANGER! Thank you MS for always stepping up your game.
4th Grade Teacher,
Algonquin, IL
Mystery Science is filled with interesting, thoughtful lessons that align with our TEKS. They are easy to follow and very detailed in giving students what they need to succeed.
Science Specialist,
Lewisville, TX
My students crave this program. Thank you so much for bringing this subject alive, not only for the students, but for me as well.
3rd Grade Teacher,
Cerritos, CA
I love that Mystery Science is in Spanish. The students love Mystery Science! It is not easy to find good articles/videos in Spanish. This is great for our bilingual group.
4th Grade Teacher,
Monmouth, IL
New to Mystery Science? Get a free trial until June 30, 2024!
Only 3,542 free trials remaining. Learn more